DIREZIONE
GIANCARLO MAZZOLI (onorario) - DARIO MANTOVANI (responsabile)
COMITATO EDITORIALE
ALBERTO CANOBBIO - FEDERICO CONDELLO - FABIO GASTI
STEPHEN HARRISON - LUIGI PELLECCHI - CHRISTOPH PIEPER
ELISA ROMANO - DENIS ROUSSET - JOHN SCHEID - FRANCESCA SCHIRONI
CHRISTOPHER SMITH - DANIELLE VAN MAL-MAEDER
COMITATO REDAZIONALE
ALESSIA BONADEO - MARCO FRESSURA
DONATELLA ZORODDU (coordinatrice)
ISSN 0004-6574
Periodicità semestrale
Sede
Palazzo centrale dell'Università
Strada Nuova, 65
I – 27100 Pavia
telefono: +39 0382 984646
e-mail: athenaeum@unipv.it
Dipartimento di Studi Umanistici
Università di Pavia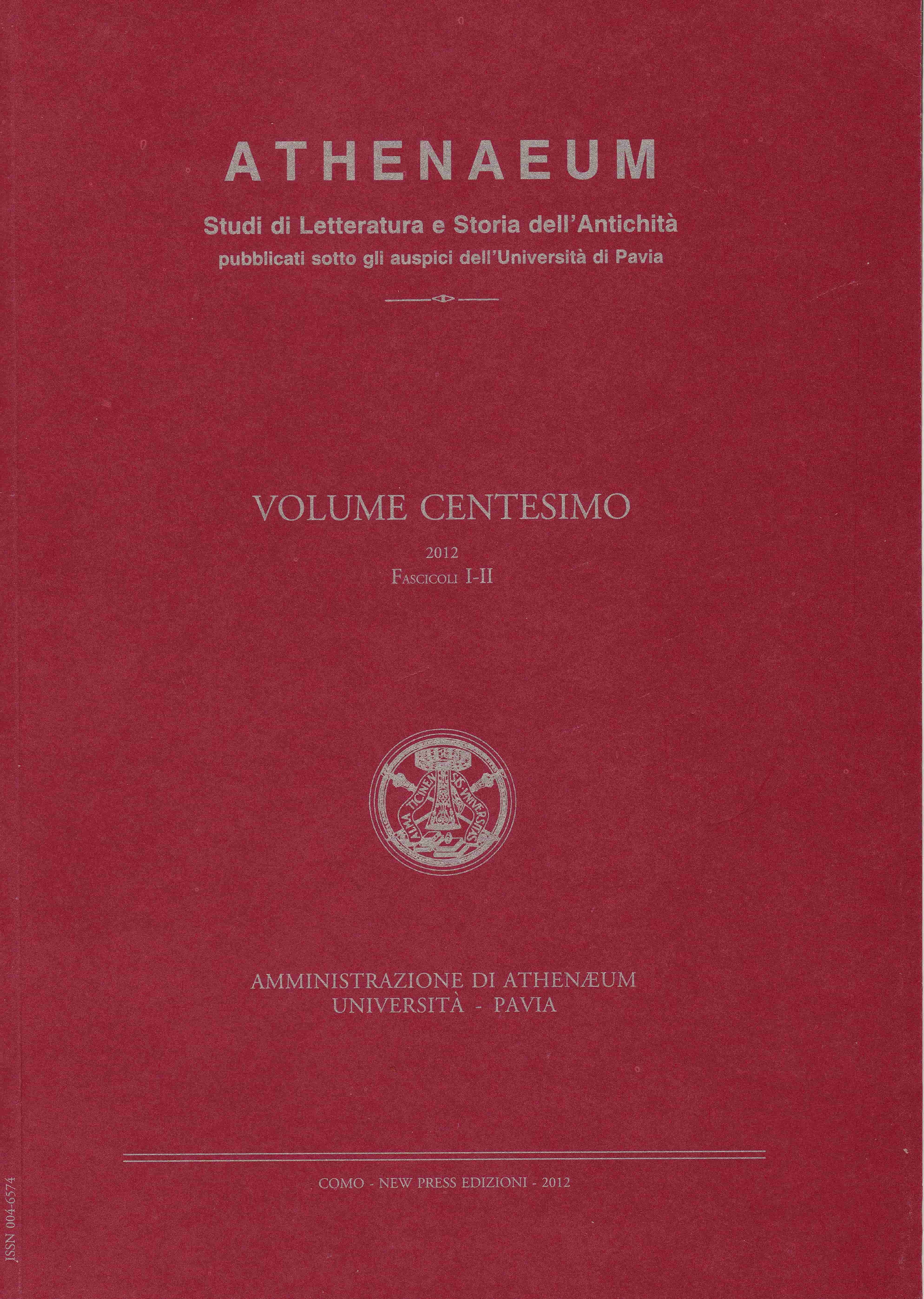 Fondata nel 1913 come «organo di vita scientifica delle Università italiane per la parte che riguarda le discipline letterarie e storiche» da Carlo Pascal, che la diresse fino alla morte nel 1926, nel 1927 fu affidata a Plinio Fraccaro, che ne restrinse il campo d'interesse alla storia e letteratura dell'antichità e ne tenne la direzione sino al 1959. Gli subentrò, dal 1960 al 1989, Enrica Malcovati, cui è succeduto fino al 2005 Emilio Gabba, Direttore onorario fino alla sua scomparsa nel 2013. Direttore responsabile dal 2006 al 2019 è stato Giancarlo Mazzoli, ora onorario. Dal 2020 è Direttore responsabile Dario Mantovani.
The journal was founded in 1913 «to promote the scientific activity of Italian universities focused on literary and historical disciplines». Its founder, Carlo Pascal, served as general editor until his death in 1926. In 1927, Plinio Fraccaro was entrusted with the care of the journal. He limited its scope to encompass history and literature of antiquity. He held office until 1959 when Enrica Malcovati replaced him as director from 1960 to 1989. Her successor was Emilio Gabba, who would be general editor of the journal from 1990 to 2005, and then honorary director from 2006 until his death in 2013. Giancarlo Mazzoli held the office of general editor from 2006 to 2019, when he was appointed honorary editor. Dario Mantovani, co-editor since 2000, has been appointed general editor of «Athenaeum» in 2020.
La Rivista, pubblicata sotto gli auspici dell'Università di Pavia, esce ogni anno in due fascicoli semestrali fra le trecento e le quattrocento pagine ciascuno, a maggio e a novembre, per i tipi della New Press Edizioni di Como (Via della Traversa 22 - 22074 Lomazzo; tel. +39 031 301268/9; fax +39 031 301267). Aperta alla collaborazione di studiosi di tutto il mondo, riserva una prima parte agli articoli, una seconda a brevi note e discussioni, e la parte conclusiva a recensioni e notizie di pubblicazioni. Tutti gli articoli e le note sono accompagnati da un abstract in inglese. I rapporti di scambio instaurati con altre riviste del settore consentono alla Biblioteca del Dipartimento di Studi Umanistici dell'Università di Pavia di incrementare il proprio fondo librario con più di duecento testate.
Per maggiori informazioni sulla storia di «Athenaeum»:
Almum Studium Papiense
Cento anni di incontro
The journal is published yearly under the auspices of the University of Pavia, by New Press Edizioni di Como (Via della Traversa 22 - 22074 Lomazzo CO; tel. +39 031 301268/9; fax +39 031 301267). It is issued twice a year, biennially (in May and in November). Each issue is made up of three to four hundred pages. The journal welcomes contributions from scholars from all over the world. Each issue is dedicated to scholarly Articles in the first part, short Notes and Discussions in the second part, and Book Reviews and Notes on New Publications in the third. All essays and notes are accompanied by abstracts in English. The cooperative exchange relationship enacted with other journals in the same field allows the Library of Humanities of the University of Pavia to increase its collection with more than 200 publications yearly.
For more information on the history of «Athenaeum»:
Almum Studium Papiense
Cento anni di incontro